The Changing Face of Pennsylvania
Learning from Aerial Photographs
The Changing Face of Pennsylvania
Participants review aerial maps taken over time to assess changes in growth and development. Based on the aerial photographs, participants measure and determine how the changes affect natural and human resources.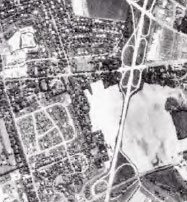 Aerial photographs of state parks, schools and communities may be available through the Bureau of Topographic and Geologic Survey at www.dcnr.state.pa.us/topogeo/index.aspx. A set of aerial photographs of the city of Lancaster in Lancaster County is provided and may be used for this activity.
Questions
What tools are available to assess land changes and help us make sound land decisions?
How does growth and development impact natural resources?
Why is it important to protect natural resources and natural spaces?
What factors influence the location of development?
What can you predict about future growth patterns?
Preparation
Cover dates with a removable piece of paper prior to distribution.
Provide each group with erasable markers, a map, and question sheet.
Optional:
Land cover maps, geology maps and topographic maps could be distributed to each group and used to enhance the lesson.
Preparation
Download the Details »
Download Activity 1 Materials »